Solo & Ensemble Festival 2017
On Saturday, February 25, 2017, the Capitol Conference Wisconsin School Music Association (WSMA) Solo and Ensemble Festival will be hosted at Poynette. This Capitol Conference event will include sixth through twelfth grade music students from Lake Mills, Lakeside Lutheran, Cambridge, Lodi, Luther Prep, Wayland Academy, and Poynette.
Through the Solo and Ensemble experience, students learn the discipline of rehearsal, playing solos/in a chamber group, are challenged to advance their musical skills, perform in front of an audience and a WSMA certified adjudicator, and receive feedback on their performance. Performers at the highest level (Class A) at a WSMA District Festival have the opportunity to receive a 1* (one-star) rating which advances them on to the State Solo and Ensemble Festival in the spring.
Please click here for the  Schedule for Lake Mills Middle & High School Students.
Please click here for the Transportation Form
Please click here for Solo & Ensemble Information and Registration Form.
Lake Mills Music Parents Fundraiser Concert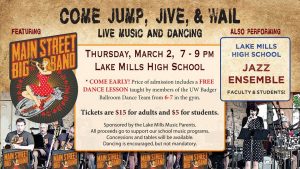 The Lake Mills Music Parents are hosting a "Music in Our Schools Month" fundraising event on Thursday, March 3, 2017.  We're very excited about the line-up this year.
Mr. Wheylan will be joined by his friends from the UW Badger Ballroom Dance Team to give free swing dance lessons in the LMHS Gym from 6 to 7PM.
We'll have great musical performances in the LMHS Commons from 7 to 9PM.  Our music faculty will kick things off followed by our LMHS Jazz Ensemble.  Then we'll be treated to a performance from Mrs. Heimstreet and the Main Street Big Band.  Everyone will come together for a big finale to end the night.
Cost will be $5 for students and $15 for adults
LMHS Music Department Florida Tour – March 2017
Below are some new updates and forms for the LMHS Music Department Florida Tour on March 23-29, 2017.  For any questions, please contact Linda Heimstreet at linda.heimstreet@lakemills.k12.wi.us or 920-648-2355 ext. 316.
Important Dates/Events:
Monday, March 6 at 6 PM in Auditorium: Music Trip Chaperone Only Meeting
Monday, March 6 at 7 PM in Auditorium:  ALL Music Trip Parent Meeting
Wednesday, March 22 at 7:15-7:45 AM in Auditorium: Drop off trip items, luggage and carry-on bags
Thursday, March 23 at 6 AM: Early Departure for Florida Trip
Wednesday, March 29 at 10:30 PM: Return from Florida Trip
Important Forms/Info:
NEW! Click here for important "Tour Updates and Reminders"
NEW! Click here for the "Trip Waiver"
NEW! Click here for the "Emergency Treatment Form"
NEW! Click here for the "Medication Authorization Form"
Click here for the "Initial Student Letter"
Click here for the "Trip Chaperone Interest Letter"
Click here for the "Student Conduct Form"
Click here for the Music Trip payment schedule
LMMS Awarded Madison Area Music Grant
 
Photo of Mr. Brad Klotz, LMMS Band Director, being awarded a grant from the Madison Area Music Association (MAMAs) to help purchase a new baritone saxophone for the middle school.
Volunteers Needed for 2017 Fall Concessions!
The concession stand (located at LMHS) is our top fund raiser. The money we raise funds student scholarships, music clinics, music trips and other music program purchases.
Want to Help?
Please use this on-line link to view the dates/times and to sign up for a concession volunteer slot.
Click here if you want to see the start up and clean up procedure details as a volunteer in the concession stand.
Email us  or contact Rebecca Henderson at 608-669-2265 if you have any questions.
Upcoming Events – Mark Your Calendar!
ICCA Competition: Maddy Bergum (LMHS Alumni) performs in University of Minnesota's Enchantment (women's a cappella group)

Saturday, February 4, 2017, 7PM at UW Madison, Shannon Hall
$25/ticket
Middle School Select Solo & Ensemble Recital: Tuesday, February 21, 2017, at 7PM in the LMMS library
Capitol Conference Solo & Ensemble:  February 25, 2017, from 8AM-4PM at Poynette
LMMP Fundraiser Concert, March 2, 2017 at LMHS

Swing Dance Lessons: 6PM in the gym
LMHS Jazz Band/Main Street Big Band Dance: 7-9PM in Commons
Cost: $5/students, $15/adults
Senior Recital at UW Whitewater: April Trewyn (LMHS Alumni) perform on Saturday, March 4, 2017, at 1PM, at UW Whitewater, Light Recital Hall
LMHS Orchestra, Band, Choirs Concert: Tuesday, March 14, 2017, at 7PM in LMHS Upper Gym
LMHS Play: March 17 & 18, 2017, at 7P at LMHS
LMHS Music Trip to Florida: March 23-29, 2017
Lake Mills Music Parents Meetings (all music parents welcome!):  April 3, 2017, at 6:30PM in LMMS music room