2018 Capitol Conference Solo & Ensemble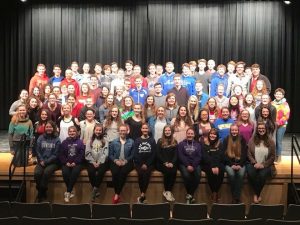 On Saturday, February 24, music students from Lake Mills, Poynette, Watertown Luther Prep, Lakeside Lutheran, Lodi, and Poynette met at Columbus High School for the 2018 Capitol Conference District Solo and Ensemble Festival.
A large number of students performed at many different sites throughout the day for Wisconsin School Music Association certified music judges. Students, their teachers, and accompanists devoted many hours preparing for their performances. The ratings of their performances reflect these hours of preparation and hard work, as well as their growth as young musicians and students of music over the year!
31 entries are proceeding to the State level in April and 7 entries missed it by only one point.
Congratulations to all of these participants!
Volunteers Needed for LMHS Concessions
The concession stand is our top fund raiser. The money we raise funds student scholarships, music clinics, music trips and other music program purchases.  Thank you for your support!
Want to Help?
Click here for the sign up for specific dates and times.
Click here to see the start up and clean up procedure details as a volunteer in the concession stand.
Email us  or contact Mark Hoggatt at 920-648-2724 if you have any questions.
Lake Mills Music Parents (LMMP) Meeting
Our next LMMP meeting will be on Monday, April 9, 2018,  6:30PM at Lake Mills Middle School in the music room.  We welcome all parents of Lake Mills students!  We will discuss various ways to get involved in upcoming music programs and fundraisers.  We hope to see you there!
 Lake Mills High School Pep Band Schedule
Click here to see the schedule.
Lake Mills Middle School Band Lesson Schedules
Click here to see schedule A and B.
Upcoming Events – Mark Your Calendar!
Click here for the 2017-18 Lake Mills School District Music Calendar (updated 7/27/17, there may be revisions throughout the year).
March Events (Music in Our Schools Month!)
Lake Mills Music Parents Sponsored Fundraiser Concert: March 1, 2018, at 7PM, LMHS Auditorium
LMHS Band, Choir, and Orchestra Concert:  March 13, 2018, at 7PM, LMHS Gym
April Events
Capitol Conference Large Group Instrumental Festival: April 4, 2018, Luther Prep High School
Lake Mills Music Parents Meeting (All Parents Welcome): April 9, 2018, at 6:30PM, LMMS Music Room
Lake Mills High School Play: April, 13 (7PM), April 14 (7PM), and April 15 (1:30PM), LMHS Auditorium
Capitol Conference Large Group Choir Festival (Concert Choir): April 18, 2018, Belleville High School
Kindergarten to 2nd Grade Concert: April 24, 2017, (1PM dress rehearsal option and 6PM), LMES Gym
Music Scholarship Applications Due (both MS and HS): April 24, 2018
State Solo & Ensemble: April 28, 2018, UW Whitewater
May Events
5th and 6th Grade Band Concert: May 3, 2018, LMHS Auditorium
7th and 8th Grade Band Concert: May 3, 2018, LMHS Auditorium
7th and 8th Grade Choir Concert: May 3, 2018, LMHS Auditorium
LMHS Band Concert:  May 6, 2018 (Sunday), at 3PM, LMHS Auditorium
LMHS Choir Concert: May 7, 2018, at 7PM, LMHS Auditorium
5th & 6th Grade Orchestra Concert: May 10, 2018, at 6PM, LMHS Auditorium
7th-12th Grade Orchestra Concert: May 10, 2018, at 7PM, LMHS Auditorium
LMHS Show Choir Community Performances: May 11, 2018, various venues
4th Grade Strings Recruiting Night: May 15, 2018, at 6:30PM, LMES Cafeteria
4th Grade Band Recruiting Night: May 16-17, 2018, at 3:30-7:30PM, LMES Cafeteria
LMHS Show Choir Showcase Concert: May 19, 2018, at 7PM, LMHS Auditorium
2018-19 LMHS Show Choir Tryouts: May 21-22, 2018, LMHS Auditorium
LMHS and LMMS (7th/8th grade) Bands Memorial Day Performance: May 28, 2018, at 9:30AM, at Commons Park
June Events
LMHS Graduation Performance: June 3, 2018, at 1PM, LMHS Gym
8th Grade Recognition (HS Chamber Strings and 7th Grade Orchestra): June 7, 2018, at 6:30PM, LMMS Gym
Overture Tommy Awards Ceremony: TBD at Overture Center